Evohe 77-81
Intégrale 1977-1981
Musea Records, double CD
CD 1 : Sharga (16'14) – K'a (18'22) – Aïra (13'44) – Seth (13'02)
CD 2 : K'a version longue (42'16)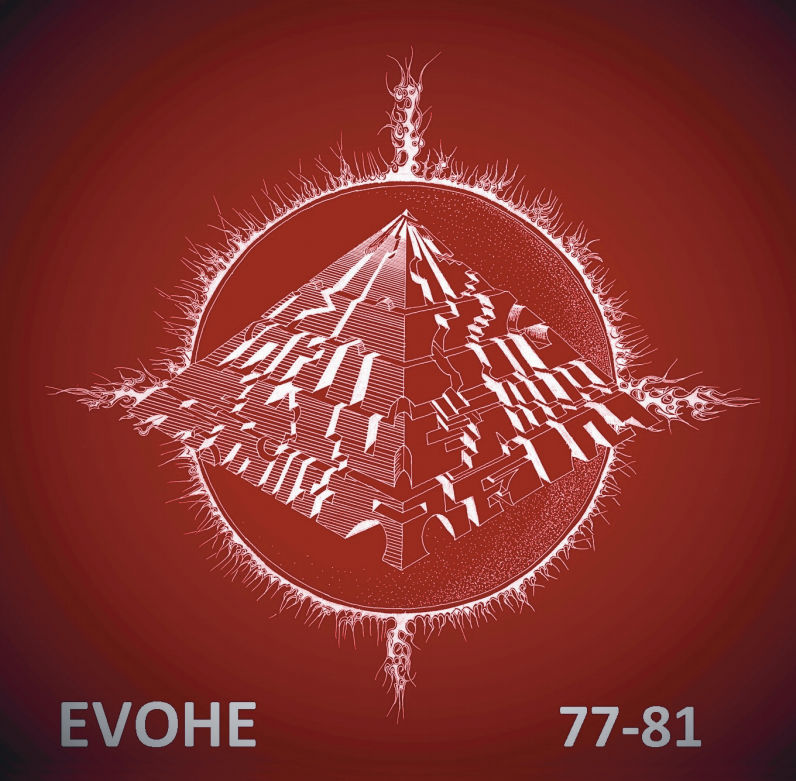 (English text below the French one)
Voici enfin rassemblé en ce double opus l'ensemble des compositions enregistrées de 1977 à 1981 du groupe toulousain Evohé. Né en 1974, Evohé se constitue autour d'une pièce, K'a, qui deviendra le morceau de bravoure du groupe, passant d'un thème de 14 notes à une oeuvre fleuve de 43 mn comportant plus de 60 thèmes et 200 changements de mesure. Autour de cette création viennent s'ajouter peu à peu d'autres morceaux qui confirmeront cette inspiration Zeulh de la musique du groupe, marquée par un sens des contrastes, un rejet de la facilité, l'emploi de mesures complexes et, surtout, une énergie qui n'échappe pas à un public et à une critique très vite enthousiastes. Grâce à l'émergence récente et inespérée d'enregistrements de cette époque, les labels Vapeur Mauve (France), puis Music Research Library (USA) et enfin Musea Records (France) permettent à nouveau au public d'accéder à cette musique énergique et passionnée, qui s'inscrit dans la mouvance de groupes tels que Univers Zéro, Art Zoyd ou Magma, pour ne citer que certains des groupes avec lesquels Evohé a parfois partagé la scène.
Evohé, c'est : Stéphane Consalvi (claviers), Roger Lahana (batterie, percussions), Michel Mathern (basse), Philippe Perrichon (guitare).
Double CD disponible sur les plateformes telles que Amazon et FNAC, ainsi que sur le site de Musea. Egalement disponible chez Rakuten et Discogs.
____________________
Here is finally gathered in this double opus all the compositions recorded from 1977 to 1981 by the Toulouse band Evohé (France). Founded in 1974, Evohé was built upon a piece, K'a, which would become the band's bravery creation, evolving from a 14-note theme to a 43-minute major work comprising more than 60 themes and 200 bar changes. On top of this creation were gradually added other pieces, which confirmed the Zeulh inspiration of the music of the band, characterized with a sense of contrasts, a rejection of ease, the use of complex bars and, above all, an energy that got a very enthusiastic feedback from audience and critics. Thanks to the recent and unexpected emergence of recordings from this period, record labels Vapeur Mauve (France), then Music Research Library (USA) and finally Musea Records (France), giving once again an audience to this powerful, passionate music, which is part of the same musical world as Univers Zéro, Art Zoyd or Magma, to name only some of the bands with which Evohé has sometimes shared the stage.
Evohé is: Stéphane Consalvi (keyboards), Roger Lahana (drums, percussions), Michel Mathern (bass), Philippe Perrichon (guitar).
Double CD available on commercial platforms such as Amazon and FNAC, and on the Musea web site. Also available at Rakuten and Discogs.